HITN (Hispanic Information and Telecommunications Network, Inc.) was founded in 1981 to promote the educational, cultural, and socio-economic aspirations of Hispanics in the United States through the development and distribution of authentic quality content.
HITN was established as a non-profit television channel in Spanish language and has become the largest US channel in its category.
HITN has the largest educational broadband spectrum covering over 100 MM people in 80 markets in the United States and Puerto Rico. The channel has leveraged its significant holdings in collaboration with leading wireless network operators, facilitating commercial, regional and national LTE broadband networks.
HITN programming is mainly focused on general and children's education, health, science and technology, nature, and current global issues.
HITN's friendly website is specially designed for viewers to easily find programming information, channel lineups on all cable companies, and as a platform for users to participate in our amazing contests.
HITN is also active on social media through Facebook, Instagram, Twitter, and YouTube, with a variety of great content and entertainment for all our followers!
https://twitter.com/hitn
Instagram @hitntv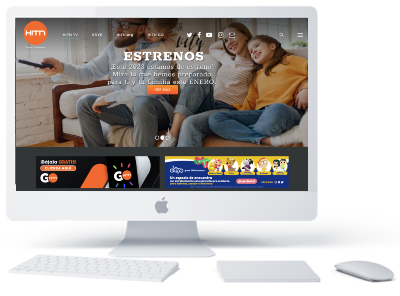 PROGRAMMING SEGMENTS
HITN offers content for the whole family including carefully selected fun-filled, learning, and educational series for the youngest members of the household.
Slide Anything shortcode error: A valid ID has not been provided
An HITN segment that offers news and current relevant issues programming such as "Estudio DC con Gerson Borrero", "En Foco con Neida Sandoval", "Voces", and a section called "Ayudemos a nuestros hermanos" ("Let's help our people"), where we provide key information on how to help those in need.
This section features technology and scientific novelty programming such as our star show Top Gear.
A space dedicated to the conservation of species and our love and respect for nature, where you will find information on how to turn Earth into a better place.
HITN and Dr. Aliza bring you Vida y Salud, a space where you will find content with amazing tips and ideas that will help you take care of your health and your family's wellbeing.
Programming schedules.
This section provides visitors with information on where to find the channel and how to tune-in.